When you're relaxing on a massage table, it's
easy to see massage as a gift.
Whether
you're there to
reduce pain
, to
ease anxiety
, to
help you recover
from the physical
and mental stresses of work, athletic training, parenting, or just being alive,
massage is a moment of freedom in an occasionally crushing world.
If you're thinking of sharing the gift of
massage with someone else for a special occasion or "just because," you are
almost certainly doing so from a place of love and generosity.
Obviously, I'm a big fan of giving massage as
a gift!

But there are some things to
keep in mind when offering this kind of present: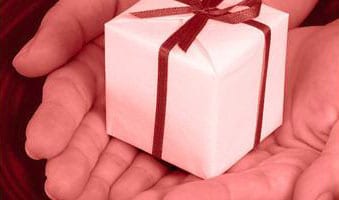 How to (successfully!) give
the gift of massage
Think
about the best way to deliver your gift.

Gift certificates

are the easiest way to give a massage as a gift, as it allows the individual to
schedule on their own (either by calling or going online).

Scheduling on their behalf can sometimes work
as well, although this can require additional strategic planning.
Look
for genuine excitement.
When
you mention massage, are they enthusiastic about the idea?

What you are looking for is, "Oh my gosh,
that sounds amazing!" as opposed to a polite, "Yeah sure, I guess I would go if
it were free."

If you can elicit a more
excited response by offering new socks, go with the socks.

But many people are thrilled by the idea of
getting a professional massage as a gift.
Talk
with your massage therapist.
Are
they accepting new clients right now?

Do
they allow people to purchase massages as a gift?

Do they offer the kind of massage this person
needs or wants?

For example, at Healing
Hands we offer relaxing massages
with aromatherapy and/or Himalayan salt stones as well as deep tissue
massages with stretching and heat.
But if you're looking to give a massage as a gift to someone who wants
to experience modalities we don't offer (such as shiatsu or craniosacral work),
we wouldn't be the best fit.
Consider
and remove obstacles.
Unlike
a nice sweater or a juicy novel, there can be a few barriers to someone
enjoying even a gifted massage.

These
include:
●
Transportation and
accessibility.

Will you need to help them get to their massage?
●
Childcare and other
caregiving responsibilities.
Will they be more likely to accept the gift
if it's accompanied by an offer to babysit?
●
Tips, parking, and other
expenses.
At
Healing Hands we say "gratuities are never expected but always
appreciated."

If you wish to include
this in your gift, we will note it at the bottom of our customized gift
certificates.

As far as parking goes,
you can let the recipient know that we validate their valet fees so there is no
cost to drop off their vehicle when they come for their session.
●
Anxiety.
Receiving a massage
for the first time can be intimidating.
Going together or talking about what to expect can be useful.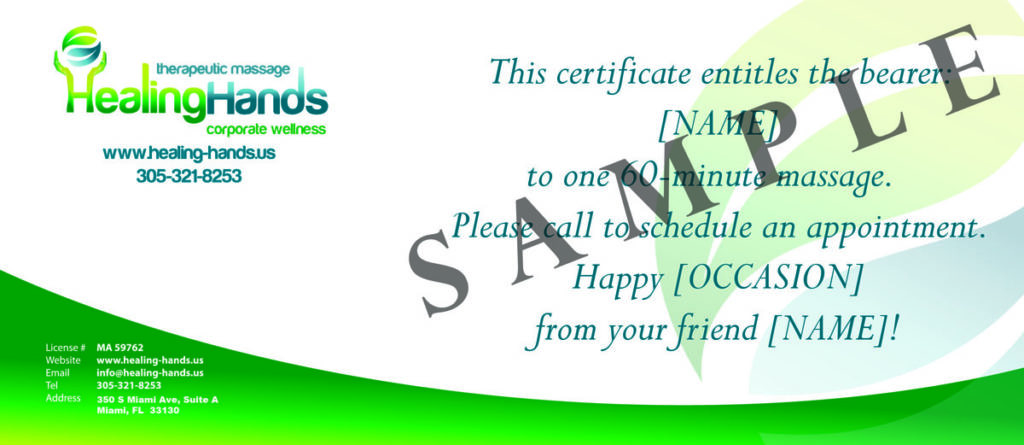 And
finally, don't forget the most important gift recipient: yourself. You can't pour from an
empty cup! Rest matters. Peace of mind matters. Sometimes, one of the best gifts you can
offer others is to take a moment away from the chaotic world, so that YOU can
be a better spouse, parent, colleague, neighbor, or friend. Sometimes self-care can feel like a strangely
radical or indulgent act, but it's a vital one.
When we are around people who know to care for themselves before running themselves ragged, it's a
better environment for everyone.
To
give the gift of massage,
please visit this
page and you will be directed to a secure PayPal link where you can
enter the information of yourself and the recipient.

Additional customization available upon
request.
#healingshandsmiami, #therapeuticmassage,
#corporatewellness, #massage, #wellness, #holidays, #gifts, #giftcertificates,
#giftideas