RELAX – REFRESH – RENEW
Swedish, aromatherapy, and lymphatic massage
Treat yourself or a loved one to one of our customized full-body massage treatments.
SWEDISH MASSAGE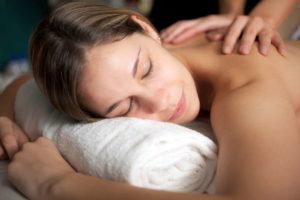 The ultimate in relaxation, this is the kind of massage most commonly given in spas. Oil is applied to the body in soothing strokes that melt away stress. Techniques include gentle rocking, effleurage (light, long strokes), petrissage (circular manipulation), tapotement (percussive techniques), and perhaps some light assisted stretching as well. Your massage therapist will perform intake with you and craft a session that best addresses your needs. 60 MIN: $95 / 75 MIN: $118 / 90 MIN: $140
AROMATHERAPY MASSAGE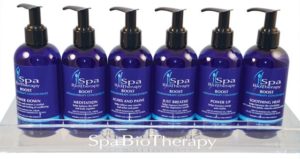 Your massage therapist will use your choice of a blend of aromatherapy oils by Spa BioTherapy in your session for maximum relaxation and enjoyment.  As a bonus, you will receive a 2-oz bottle to take home with you, or bring it to your next session for no additional charge.  60 MIN: $105 / 75 MIN: $130 / 90 MIN: $155
MANUAL LYMPHATIC DRAINAGE MASSAGE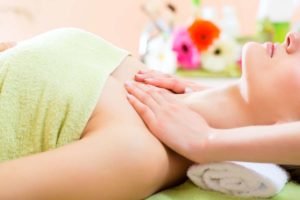 This gentle massage encourages and stimulates the body's natural drainage of lymph, carrying waste products away from the tissues.  It helps speed up the healing process as well as boosting the immune system and is excellent for clients (with their doctor's approval) who have recently had surgery or as part of a detox regimen. 60 MIN: $115 / 75 MIN: $142 / 90 MIN: $170
PRENATAL MASSAGE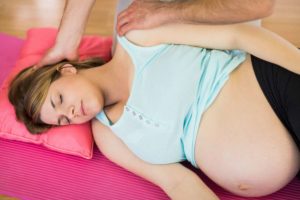 Nothing causes more changes in the body – hormonal, muscular, visceral – than pregnancy. This can result in considerable discomfort for the mother-to-be. Prenatal massage is performed in the side-lying position, which eliminates pressure on the abdomen while providing greater access to muscles of the shoulder joint, hip joint, abductors, and other areas.  60 MIN: $100 / 75 MIN: $125 / 90 MIN: $150
GERIATRIC MASSAGE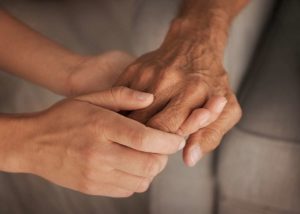 The power of therapeutic touch increases as we age.  The healing properties of massage – including increased circulation, improved muscle tone, and release of endorphins – are highly beneficial to the senior population in particular.  Anastasia has studied under Dr. Sharon Puszko of the Daybreak Institute, widely recognized as the leading authority on geriatric massage, and is pleased to provide this treatment for elderly clients.  45 MIN: $75 / 60 MIN: $95
All of our massages are performed with organic coconut oil. Because coconut is not a nut, it does not trigger reactions from individuals with nut-related allergies; however, if you have any kind of allergy or sensitivity, please let your massage therapist know prior to the start of the session.