New experiences are hard for us stubborn humans. Unfortunately, massage is often one of those things that SOUNDS great but can be a little intimidating for the inexperienced. I mean…you don't typically seek out allowing strangers to enter your personal space, much less put their hands on you! However, the pros FAR outweigh the cons: reduced stress, reduced anxiety and depression, improved circulation, improved recovery, improved mental alertness…the list goes on. Massage has a huge list of mental and physical well-being benefits, so we want to do what we can to remove your barriers to entry by answering some of your questions.
Here are some of the most frequently asked questions:
Why don't you offer sessions shorter than 60 min at your studio?
Because it's simply not enough time to work the entire body, and we believe in addressing the entire body, not just the area that's bothering you at the moment. The body is an interconnected system, and chances are good that the pain or discomfort you're experiencing is related to multiple areas of your body! Our massages are all inclusive, so we strive to give you as much value as we can while you're on the table (meaning that we don't upcharge for things like deep tissue, stretching, heat, cupping, etc).
How often should I get a massage?
That's easy. Your body will tell you, listen to it! We typically recommend a minimum of once a month. This is why we created our massage membership program for our studio, where you get rewarded for taking care of your body with special rates (approximately a 15-20% discount on EVERY massage you get). All you commit to is a minimum of one massage per month, but you get the discount even if you decide to treat yourself to one every single day!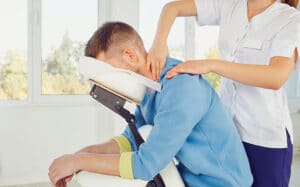 Do I have to be completely undressed?
Totally up to you, however private areas are always properly draped/covered. If you're looking for lower back work, it's often easier for the therapist if underwear is removed, but this is by no means mandatory. We want you to be comfortable and enjoy your experience, so do what's best for you.
If I want a really deep massage, should I see a male therapist? Not necessarily! We take GREAT pride in our team. They use proper body mechanics to create deep pressure, regardless of gender. We've never had anyone say their therapist was unable to accommodate the level of pressure they desired.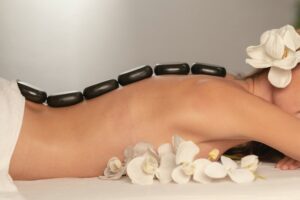 Can I talk during my session? Again, up to you! The therapist doesn't usually talk as it's meant to be a relaxing experience for the client. The only exception is to ask you about the pressure level and if you'd like it to be adjusted to your particular needs. But please, if you have ANY feedback or questions, don't be afraid to ask. We want to give you the best and most personalized experience possible.