The month of December is a season that brings families and friends together in celebration…but we also recognize that it can also be a busy and stressful time for many people. How can we try to eliminate the stress so we can fully embrace the beauty of the season?
At Healing Hands, we think the secret is in the expectations we set for ourselves and for our loved ones during this busy time. Holiday travels, dinners, and of course gifts all involve time and money, things that can affect our mental health if we don't manage them well.
Below are a few tips to help you to enjoy the December celebrations with less stress while also taking care of your wallet.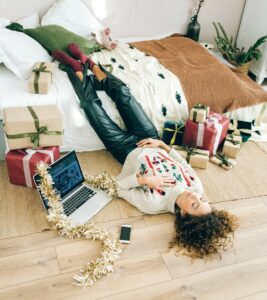 During the holidays, it is common to buy and receive gifts. It is a show of appreciation for the people in our lives. However, spending a lot of money or going over budget can be very stressful later. It is important to consider several things before you go shopping:
To start, make a realistic budget of what you can spend on gifts without using credit cards. Then, put together your gift list. Now ask yourself the following questions for each person on your list: 
Are you buying a gift out of a sense of commitment or true appreciation? If it's the latter, find another way to let that person know that you are thinking of him or her during the holidays.
Are there people on your list who are from the same family? If so, you can give them a family gift rather than individual gifts. Think board games, a puzzle, a box of chocolates, or a bottle of their favorite drink.
Is there a group on your list with whom you can do a gift exchange game? Propose that to them!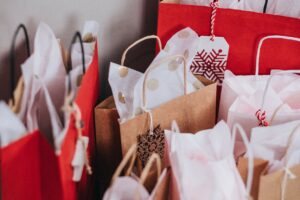 Once you have the total number of gifts you will buy after asking yourself these questions, divide your total gift budget by the number of people to give you the maximum amount you can spend per person. The most important thing is to make sure you don't exceed that amount and/or buy extra gifts.
The good thing about all this is that by giving fewer gifts, you'll spend less time in busy, cluttered stores and more time doing something that truly makes you happy. Maybe you can use that time (and the money you're saving) to do a family activity like going bowling, out the movies, or gifting yourself a relaxing massage. These experiences will create more lasting and positive memories than those that come from giving or receiving a gift. This also helps contribute to our mental well-being.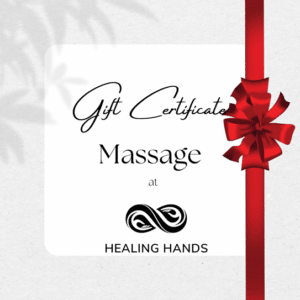 When you are stressed on a regular basis, you will soon start to see its effects on your physical and mental health. Stress can cause high blood pressure, muscle tension, migraines, anxiety, severe depression, and sleep problems. Planning and budgeting ahead of time is a good way to avoid many mental and health challenges during the December holidays.
However, some people may find themselves going through much more difficult situations that require professional help. At Healing Hands we not only recommend and perform excellent therapeutic massages, but we also have a variety of virtual Corporate Wellness Classes that aim to improve our clients' mental and physical health. These classes include mindfulness, yoga, Zumba, nutrition, and more. Remember that we all face mental health challenges throughout our lives, and we can all do something to help ourselves and others.