Today's blog is going to tackle every small business owner's nightmare: One-Star Reviews. 😢
Negative reviews are not a completely bad thing; they can even serve to legitimize a business in the eyes of anyone considering their products or services since there's no such thing as a 100% perfect business 100% of the time. We totally get that. And the more customers a business serves, the more chances that something can go wrong. Healing Hands has serviced thousands of customers during our 11 years in business…
…and since 2011, we have received a total of TWO one-star reviews (one on Google and one on Yelp). Of course we take them seriously; however it is noteworthy that neither was about receiving a "bad massage" or something tangible that we could act upon and fix. The one on Google included no description at all, and the one on Yelp complained – ironically enough – about things that were her own fault.
As the professional business we are, of course we responded accordingly (and publicly). Curious? Read on…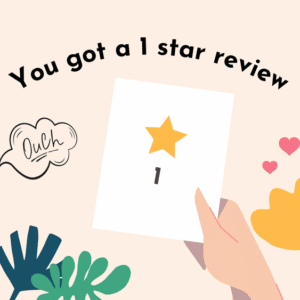 GOOGLE:
Madeline M: (1 year ago)🌟: [no description]
Our Response: Hi Madeline, we see you left us one star which is unusual because we thought you enjoyed your massage. If there was something wrong, we would have expected to hear from you shortly afterwards when we reached out via email to thank you for coming in, but that was well over two weeks ago. Could you please let us know why you left us this rating?
Her Response? … –Crickets– 🦗🦗🦗
YELP:
Amber C: (5 months ago)🌟: This place is VERY hard to find. Massages are scheduled back to back so if you're running 10 to 15 minutes late which is normal in Brickell because of the bridge traffic, they will cut your massage short. I paid before even getting a massage and they cut my massage 20 minutes short!!!!! It's also in a busy shared workspace building so you get a bunch of random people hanging out in the rooms around you while you're getting a massage. There was some kind of tour going on outside the room. After my massage was cut short, I felt rushed out which I HATE. I have low blood pressure and I had to stop at some little café in the building because I didn't even have time to sit and drink water. They didn't even offer you water after-I had to ask. Valet parking is a nightmare and if you don't have five dollars cash they don't even do Venmo or card payment. So you have to spend seven dollars at their ATM just to get five dollars cash out. NEVER AGAIN!!!"
Our Response: Amber, I had already responded to your email about this but it's truly sad that you would give our small, women-owned and operated business a one-star review online for something which you fully admit was your fault.  You live in Miami; you know the bridge can go up at random times.  Maybe running 10 to 15 minutes late is normal to you, but like every massage place, we have a set start time for the appointments.  Further, we take care to mention that we expect clients to arrive a few minutes early to ensure they receive the full time. In the email I wrote you, I included the following screenshot from your booking confirmation:
PLEASE NOTE: The time listed above is the start time.  Please arrive at least 5 minutes early to receive the entire time for your massage.
In addition, it is absolutely NOT true that we schedule our massages back to back; on the contrary we are proud to offer a true 60-minute hour.  We include a 15-minute buffer in between each appointment so nobody is rushed.
Something you mentioned to me in your email that you did not share in your online review was this: "The massage therapist was wonderful and that was your only saving grace."  You would have gotten to enjoy more of that wonderful massage if you had been on time.
Regarding your complaint about us being hard to find, we always send a How To Find Us link via both text and email.  When you called me asking for directions, it was evident you had never read it, and yet I patiently stayed on the phone with you to guide you until you arrived.  In addition, the link mentions that you need to bring $5 cash for the valet…again, if you had referenced the link, you would have been prepared.
As I discussed by email, of your many complaints the only one that has any merit was the one regarding the "tour" going on during your session. I spoke with the owners of CityDesk (where we rent space) about this because it seemed odd; everyone there is always quite respectful and quiet when massages are going on.  It turns out that a realtor who is not part of our shared workspace was showing some of his clients the offices.  This is an extremely rare occurrence (first time in the 5 years we've been at that location) and I have been assured it will not happen again.
I had closed my email to you with an offer of an additional 15 minutes toward a future session as a courtesy.  The offer still stands; however, since you decided to take the "nuclear option" with a one-star review rather than simply writing me back, honestly I'm not sure our company is the best fit for you.  As you can see from the many, many five-star reviews we have, our clients are upbeat, positive people who love and appreciate the work we do.  We wish you the best and hope you can find a place that will accommodate your demands and expectations.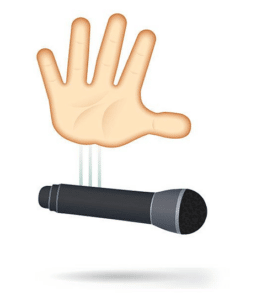 At Healing Hands, we truly want to know if you did not like something during your visit – we love your feedback! It lets us see things from your point of view and helps us change things for the better. We are open to respectful and constructive criticism. However, this was not the case with either of the above reviews.
Check out our best testimonials here. Also, feel free to check the rest in Google and Yelp. We proudly have a 4.9 average on both platforms with more than 200 reviews (adding both totals together).
Better yet, come visit us, then leave your own review. We know you won't be disappointed! 🤗💆🏼‍♂️🏆