At Healing Hands, we are the ONLY massage company in Miami to offer the All-Inclusive Massage: a true 60-minute hour massage sessions with no upcharges for add-ons like aromatherapy, deep tissue, therapeutic stretching, hot stones, and cupping. We take pride in customizing your session to make sure we fulfill your specific body/muscle needs.
In this blog, we wanted to explain the main gadgets and techniques we use in our massage sessions and their respective benefits. So, join us for a virtual tour into our customized massages!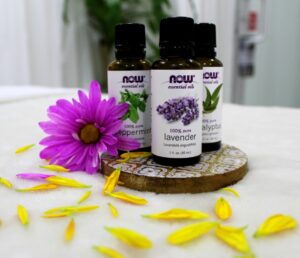 First, our essential oils. We typically begin our massage sessions face down, and your therapist will ask you to take a few deep breaths to relax you with our organic and soothing lavender scent. Lavender oil has relaxing properties and so does deep breathing. So even though the therapist hasn't even begun the actual massage yet, you already feel like you're melting onto the table. We also use organic eucalyptus oil when it is time to turn face up. It's common for your nose to get a bit congested since your sinuses are being slightly pressed against the face cradle while you are face down. Taking a few deep breaths of refreshing eucalyptus will open the airways and let you breathe more comfortably. We like to finish our session with some organic peppermint essential oil. By this time, either 60, 75, 90 or 120 minutes have gone by and you likely feel relaxed and sleepy; taking a few deep breaths of energetic peppermint will help wake you up and give you the boost you need to continue with your day (or simply make it home to relax in your own space!).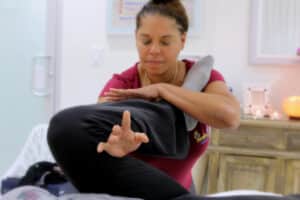 Our bodies were never meant to be as sedentary as they have become in today's busy world. Therapeutic Stretching / Stretch Therapy is an important part of healthy movement.  Your muscles process touch differently when they are relaxed and when they are passively engaged through stretch. So while you relax on the table, your massage therapist will move your joints in a way that stimulates circulation while also increasing range of motion. In our many online reviews, one of the things our satisfied clients rave about is how much benefit they received from the stretching that was incorporated into their massage. While especially good for athletes, EVERYONE can benefit from stretch therapy.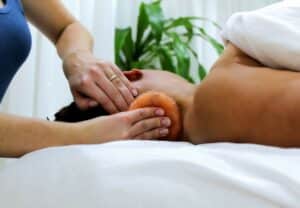 We also love using heat pads or hot stones. Most of the time we use gel heat pads since, unlike the stones, they quickly reach an ideal hot temperature that won't burn you, and they stay at a constant temperature for a longer time. This heat being applied directly to your body enhances muscle relaxation, lowers blood pressure, and helps the therapist reach deeper layers of muscle when the client is in need of a more intense massage. We use 1-2 pads in all our sessions and another great thing about them is that not only do they feel great, they also need to be boiled after each use in order to reset, so that fits well with our very hygienic massage protocol!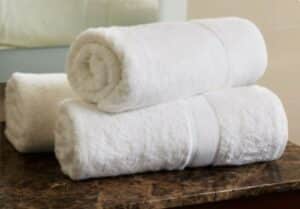 We also apply a warm, damp towel to the back after massaging it, and another one on the feet. This not only increases the relaxation aspect of the massage, but it also works to wipe off any excess oil you might have, so you can dress later without being too oily. Also, your feet will be clean and not slippery.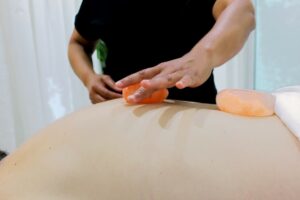 We also provide free of cost, but per request only, the use of Himalayan Salt Stones and cupping. The Himalayan Salt Stones contain 84 essential minerals and are naturally antimicrobial, known to help reduce inflammation while soothing away stress and pollutants. Cupping Therapy is well known for its great effects on muscle recovery since it stimulates the circulatory system, bringing oxygenated and nutritious blood to the stagnated area and flushing out any toxins and lactic acid that may be present.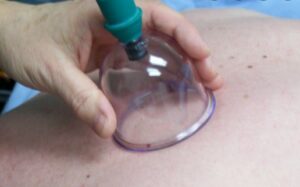 At Healing Hands, we don't nickel and dime our customers.  Our massage philosophy simple: simply pay one rate for the time you are on the table. Just speak with your massage therapist prior to the session and mention any of the above add-ons or special modalities you would like, knowing there will be no additional cost. In this way, you are empowered to choose the "extras" that best help achieve your wellness goals.
Now that you've taken the virtual tour of our all-inclusive massage sessions, we hope to see you soon, so you can try it all in person! Book your session today.