You schedule your session, you get your massage, you leave feeling fabulous.  But have you ever wondered how your massage therapist received his/her training? What it takes for them to build their clientele? Today we will walk you through what a massage therapist has to go through to get their license, keep it active, adjust to their work environments, and some of their day-to-day duties.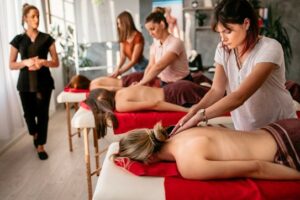 Schooling and Licensure
There has always been a big misunderstanding between the terms "masseuse" and Massage Therapist. A masseuse is someone who performs massages with no previous education or training. Massage Therapists, on the other hand, are required to take courses from an accredited institution where they learn about human anatomy, kinesiology, pathology, the history of massage, rules and regulations of the massage business, etc.
Most states require at least 500 hours of study (New York requires 1,000 and most Canadian provinces require 2,000!) to obtain a license. As part of their training, they also have to perform dozens of hours of massage to the general public. But that's not all: once finished with school, they then have to take a rigorous state exam. After all that, if they pass, they are finally granted a license to perform massages anywhere in the state. Every two years, they must take around 24 hours of Continuing Education classes related to massage in order to renew their licenses and keep them active. Check out a few class examples here. Massage therapists never stop learning!
Work Environments and Daily Activities
Once licensed, therapists have many different work options when it comes to massage. Massage Therapy involves many different modalities and can be performed in a variety of environments. In order to have a successful career, massage therapists must adapt to the way each spa or studio wants their massages to be delivered – or simply develop their own protocol when it comes to private clients.
OUTCALLS: An outcall practice is a great option for therapists who are highly independent and driven. They can choose to build their own clientele by word of mouth, visiting clients' homes or hotel rooms. When doing outcalls, they have to make sure to bring all necessary equipment: massage table, linens, bolsters, oils, disinfectant, etc. They may also bring incense, candles, or relaxing music to take the experience to the next level and make it feel more spa-like. They provide their own transportation and wash their own laundry.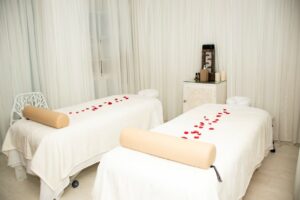 STUDIO WORK: Another option is to work in a massage studio like Healing Hands.  We are located inside CityDesk, which is a coworking space where we have 3 private offices that we have converted to massage rooms. Inside each of our studios, we deliver more of a therapeutic touch in a quiet and serene space. The massage therapist has a flexible schedule and is only required to be onsite when there's a scheduled appointment. There is no need to bring any equipment, everything is provided. This is ideal for the therapist who doesn't want to have to worry about marketing, traveling, doing laundry, or carrying heavy equipment.
SPA WORK: Here in Miami, spas are quite luxurious places where a variety of services are performed – not only massages but also facials, scrubs, body wraps, even mani-pedis. Spas usually have pools, saunas, and jacuzzis where clients can spend the entire day. Therapists are required to work on a regular schedule and remain onsite in case of walk-in appointments. Spa work is best for massage therapists who like routine and a set schedule, as well as a five-star work environment.
SPECIAL EVENTS: Yet another option would be to work at events, often in a corporate setting, performing table or chair massages on fully clothed clients. In this kind of work environment, the therapist usually performs many back to back 10-15 min massages in a row, for as many hours as the event requires. They are required to bring all of their equipment (except linens). This kind of work suits therapists with high levels of energy and stamina.
No matter what the setting, massage therapists always strive to be chill and relaxed so they can transmit this vibe to the client. Transforming someone who arrived to their massage session stressed out and in pain, into a more relaxed and pain-free person is not easy!