Stress, a sedentary lifestyle, and the general tension we experience during the day quickly accumulate in our body. The first thing many of us say when we get home from work is, "I NEED A MASSAGE!"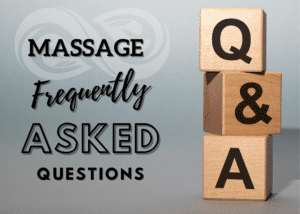 There's a reason why massage has been practiced for millennia across many cultures – its power to heal and rejuvenate is well known.  But you probably still have a few questions you've always wanted to ask…well today's your lucky day!  Below are a few of the most frequently asked questions (and answers) about massage: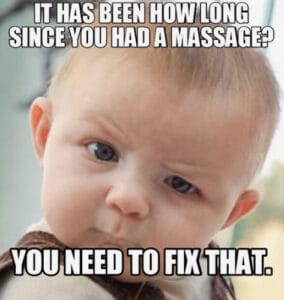 What happens if I fall asleep, snore, or drool during my session?
This is actually very common. Most massage therapists take it as a compliment. 😏 Especially if the client's goal was to relax! SLEEP = MISSION ACCOMPLISHED. Don't be shy, let yourself snooze! 😴💤
Is it ok to smoke tobacco or marijuana, or drink alcohol before my massage?
We suggest you stay away from these for at least 4 hours prior to your massage. There are also a [very] few prescription meds that can contraindicate massage (usually due to the stimulation of the circulatory system).  Bottom line: if you have any issues with your health or with an addiction, always check with your doctor before coming in for a massage.
OMG I forgot to shave, what now?
No biggie, we don't care! It happens to all of us. 🤷🏼‍♀️
Do I have to be completely naked to receive a massage?
Not necessarily, you can stay in your underwear if it makes you more comfortable. We are professional, trained massage therapists and will ensure that you are always properly draped with the sheets, so "those" areas will remain covered at all times. However, if you are completely naked, we are better able to massage the lower back, hips and glutes.
How can I [politely] let my massage therapist know that what they are doing doesn't feel good?
At Healing Hands, around 5 minutes after the massage starts, we always double check with our clients to see if the pressure is appropriate or if they would like more or less. That leaves an open window for the client to give feedback (at any time) if the pressure should be adjusted. It's always better to communicate your needs right away, with a "that's a little too much pressure", or "a bit deeper would feel better", because that will ensure that the pressure is corrected to give your body what will help it function best. If you don't communicate what you would like, you will end up not enjoying the session, and might even end up more tense.
Should I tip my therapist? If so, how much?
A 15% – 20% if suggested for all spa-like services, similar to what you would tip your restaurant server or bartender. Read more about  here.
Hopefully we answered your questions, and if you have more, do not hesitate to contact us! We are a small, woman-owned business massage studio run by a professional Licensed Massage Therapist who will be happy to answer any of your questions. Thanks and see you soon!