Besides being the most wonderful time of the year, Christmas also has the tendency to be the most stressful time of the year when it comes to shopping for gifts.
Not this year! I'm going to share what's helping me to have a more relaxed December this time around.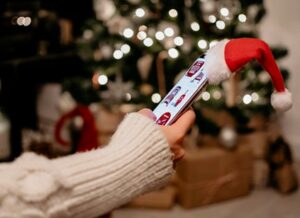 The first thing that provides peace of mind is organization. I can't stress this enough.
How many times do we finish our shopping and get home to find out we forgot the wrapping paper? Oh no, not another trip to the store!  😨
So this year, before leaving home, try writing a list of all the things you need to buy: a party outfit, gifts, wrapping paper, tape, bags, cards.  Once the items are purchased, schedule an uninterrupted chunk of time (or many smaller chunks) to put everything together.  You can use this same technique for planning holiday meals (buy the food, then designate an evening to make one dish at a time).
Another thing that will keep you relaxed is doing all that shopping ahead of time.
Not only early in December, but early in the day. This tends to be the slowest time at stores so you won't struggle to find a parking space at the mall, or stand in endless lines. Invite a friend or a loved one to make it a fun shopping date.
My favorite time-saver and stress-reliever is online shopping. A few clicks and you're all done! Ahhhhhh…I can already feel the stress leaving my body.  😉
Shopping online saves you time in the car, time at the store, time at the post office…in short, time and energy that could be better spent celebrating with your family or why not …enjoying a bubble bath and a glass of wine to end your day.
After all, Christmas is about love, family, and sharing special moments together.
Happy Holidays!