Have you ever heard of BOGO deals? Nothing excites a consumer like the promise of a good deal where you can buy one and get one free.
Well…B1G1 is our partner organization that turns this concept into one of giving instead of getting. B1G1 stands for "buy one GIVE one". Essentially, it turns an existing business model into a micro-giving business. Key business activities are linked to various micro-giving projects run by a variety of vetted nonprofits throughout the world. The better the business performs, the more it's able to give.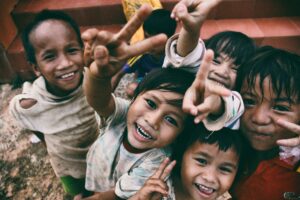 The great thing about B1G1 is that the focus is on the IMPACT a business makes, not how many dollars they give. What does this mean? B1G1 breaks down contributions into a specific number of "impacts" – for example, the number of trees planted as opposed to the exact dollar amount contributed. Impacts can be made with as little as one cent, and B1G1 vets every project to make sure that no matter how small the contribution is, it's truly making a difference in the world.
B1G1 projects are centered around education, the environment, food, health, human rights, income generation, and other SDG's (Sustainable Development Goals) as defined by the United Nations. There are hundreds of causes that cover a diverse range of passions and the wide scope of projects allows businesses to create change in a variety of areas.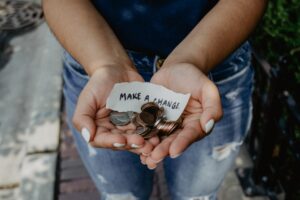 B1G1 gives our business purpose, and brings our team and our loyal clients closer together.
Most importantly, B1G1 brought us some much-needed brightness during a very dark time. Like most small businesses, we struggled during the pandemic. Hard. Our massage studio was forced to close for months and we struggled with regaining our footing in the face of so much uncertainty. Our founder, Anastasia, discovered B1G1 during this time and instantly knew it was something that closely aligned with Healing Hands' mission and values, which have always had a strong emphasis on giving back.
B1G1 takes giving back a step further by providing a unifying purpose to businesses and their customers. In the face of the darkness of 2020, the ability to give back as a team was truly a ray of hope for us here at Healing Hands.
Today we continue to give back – and we wouldn't be able to do it without your monthly massages. After all, together we've given over 4,000 days of access to clean water to people in need. Thank you, and let's continue to do good in the world!