In honor of National Volunteer Week , this week's blog post is a bit unique.  Rather than talking about wellness or massage, we'd like to highlight the amazing volunteer work of Karina, our Wellness Ops Associate.  Karina regularly volunteers at Big Dog Ranch Rescue in Loxahatchee Groves, Florida.  We are so proud of the great work she's doing, and wanted to learn more about the organization and what motivates her to help.
Founded in 2009, BDRR believes that every dog should have a happy home – and to date, they've helped more than 43,000 dogs find their forever families!  They have a small but dedicated group of staff, veterinarians, and volunteers like Karina who are committed to providing care and behavioral training so the dogs can be great canine citizens once they connect with the right family.
In addition to adoptions, BDRR also runs a service dog program for veterans and also nursing home residents.  They rescue dogs from high-kill shelters, after natural disasters, and from the Chinese meat trade.
When looking for an organization to volunteer with, Karina says, "I got involved because I wanted to do something more meaningful with my time and I wanted to spend more time outdoors and being active.  I chose [BDRR] specifically because they do their best to give the dogs a great place to live while they're there and they have plenty of room to run around.  It's the largest no kill / no cage dog rescue shelter in the US!  They also make an effort to give them some obedience and leash training.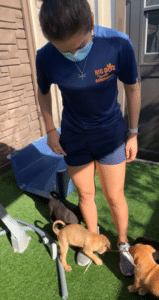 "My duties as a volunteer mostly involve walking the dogs as it's good exercise for all of us.  Sometimes I volunteer at the puppy cabins where I clean up after them and bathe them (that explains the picture of the tiny puppies attacking my shoe laces!).
"We go to a lot of special events to display adoptable dogs and they need dog handlers, which is where I come in."
You may already know that Healing Hands puts giving at the core of what we do through our partnership with B1G1.  We are so proud of our team members who also show their dedication to helping the less fortunate – whether human or animal.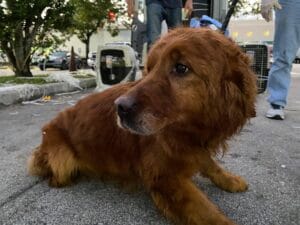 Karina wants everyone to know that it's about to be puppy season, and BDRR is going to have many adoptable puppies looking for homes.  If you are interested in learning more and possibly applying to adopt, pics and info can be found on the Meet The Dogs page.