So we've been talking…
The concept of a massage membership is nothing new.  But unfortunately, that means many people have gotten used to a 50-minute hour, a massage therapist who may be lacking in experience, and up-charges/ extra fees galore.
At Healing Hands, we have two goals for our clients: anxiety/stress reduction and pain/function improvement.  We like to use whatever tools necessary to achieve those goals – YOUR goals – without our clients feeling nickled and dimed.
Here's the idea:
Since we are always telling our clients that massage should be preventative instead of reactionary (meaning, don't wait until you have a problem to come in and see us), imagine a
monthly membership where you get to enjoy all the perks you currently do, at a reduced price.  See below to compare our plan to what's out there now…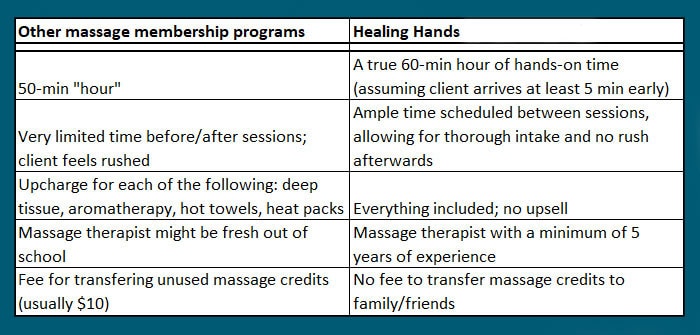 Those in the membership plan will get monthly access to one 60-minute massage to use in the next 30 days (or it can be given to a family member or friend).  E-V-E-R-Y-T-H-I-N-G is now included in one low monthly price.
This includes: 
Swedish
Deep Tissue
Prenatal
Aromatherapy
Heat Packs
Himalayan Salt Stones
Therapeutic Stretching
Cupping
All massages include hot towels and essential oils before and after each session.  Want more than an hour?  We can do that too.

The massages will roll over for a period of 3 months (again, during which time you can either use them or give them to someone else if you are unable to come in).  Conversely, if you're current on your massages and would like to come in for an extra session, you will always get the member price.
Are you ready to ensure you are practicing self-care on a regular basis? Why not sign up for a membership today and start collecting your sweet rewards?
Sign up today
.