Introducing the All-Inclusive Massage membership program
Go To Frequently Asked Questions

At Healing Hands, our goal is to help people live their best lives by helping them feel happier, less stressed, and pain-free by getting a great massage.
But let's face it: massage isn't cheap.  So what happens?  For most of us, we end up making our massages reactionary instead of preventative – meaning, we wait until we're "broken" and then come in hoping to get "fixed."
Do you wait until your car breaks down by the side of the road to finally take it to the mechanic, or do you get scheduled maintenance and regular oil changes to keep things running smoothly?
Think of massage as your body's monthly maintenance plan.
Commit to at least one massage every month and reap the benefits!  Members save an average of 15% on their massages.
There are lots of massage membership programs out there.  Here are just some of the ways we're different: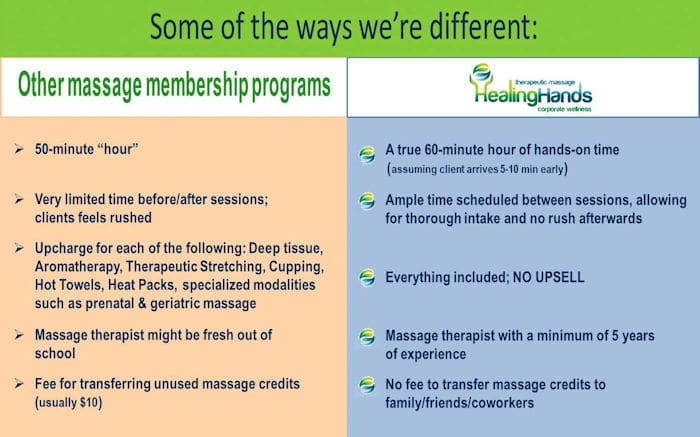 We have gotten rid of the tiered pricing that used to vary according to the massage modality and add-ons.  Our simplified pricing via the All-Inclusive Massage membership program (AIM) lets you pay for the time you are on the table, and empowers you and your massage therapist to choose the "extras" that best help achieve your wellness goals…at no additional cost.  So treat yourself to any or all of the options below:
Add-ons/special modalities for

relaxing massage

include aromatherapy, Himalayan salt stones, and prenatal or geriatric massage (when applicable)
Add-ons/special modalities for

deep work

include therapeutic stretching, hot stones, and cupping
Just speak with your massage therapist prior to the session and mention any add-ons or special modalities you would like.  Also, your massage therapist may suggest incorporating some additional treatments based on your needs…
…WITH NO UPCHARGES. EVER.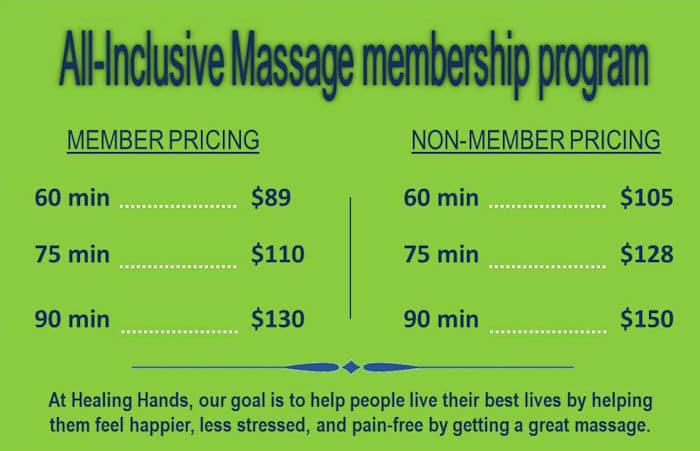 FAQ's about the AIM Program:
How is my card charged?

  Via PayPal's Recurring Payments feature.  We ask that you commit to a minimum of 3 months; after that, you may cancel at any time.
How do I book my session(s) at the member rate?  Online booking is easy via our partner BookSteam. 

Click HERE

to book.  Prior to your first member booking, you will be sent a special discount code that gives you access to the lower rate.

What if I want more than one massage in a 30-day period?

  That's great!  We'd love to accommodate you.  Whether you want one massage or 10, all Members receive the discounted rate.  Any additional massages after the prepaid credits are used will be charged in the studio after the service.
What if I'm traveling or busy? If a Member cannot come in for a session 30 days after prepayment for the monthly service, the massage credit will roll over to the following month. Members have a maximum of 3 rollovers. Massage credits may also be gifted to friends, coworkers, or family members by texting "TRANSFER + [your name first/last] to [recipient's name first/last]" to us at 305-321-8253. Recipient is responsible for contacting Healing Hands to schedule the session and must do so within 30 days of Member's text.
Does the membership rate include the gratuity for the massage therapist?  We like to say that gratuities are "never expected but always appreciated."  If you enjoyed your session, we suggest a gratuity similar to that you would leave in a restaurant (15-20%).  Cash is preferred.
We promise you a much better experience than that of the client in the video below…!  We are excited about this program and hope you are, too.  We look forward to seeing you on our massage table in the very near future.