Chair Massage
Healing Hands currently provides chair massage for employees at the following companies:
Chair massage is a short massage, typically lasting from 5 to 10 minutes, and is usually performed in a public area such as the workplace.  The recipient is seated in a specially designed ergonomic massage chair and the massage is done through the clothing.  The focus is on key areas of tension in the back, neck, shoulders, arms and hands.  Recipients say it's like hitting the "reset" button and leaves them with renewed energy to get through the day.
Here are some photos from a recent chair massage event at Southern Wine & Spirits:

How much will the massage cost me as an employee?
Most companies pay HHTM directly and offer this service for free to their employees, to show appreciation or during a Wellness Day. There are some offices where employees choose to pool their resources and bring in Chair Massage during lunchtime. We are welcome to any and all arrangements.
Does a chair massage require that the employee get undressed?
Since a chair massage concentrates on the back, neck, shoulders, arms, and hands (the most common areas affected by stress), it is not necessary for the employee to get undressed. An employee's work clothes and overall appearance are not altered.
How long is the massage?
A typical chair massage lasts approximately 5-10 minutes (depending on what your employer requests and the # of employees in the office). While it may not sound like a long time, you will be amazed how renewed you will feel afterwards!
Will oil be used?
No oils are used in chair massage. A small amount of unscented or lightly scented hypoallergenic lotion is used on the hands.
Will my hair get messed up?
A brief scalp massage is typically included as part of the package, but if you do not wish for this service, simply let the therapist know.
Who benefits from chair massage?
Anyone can benefit from chair massage. There are a variety of massage therapy techniques that can be used depending on the type of work performed. Before the massage, talk to the therapist about problem areas that need special attention.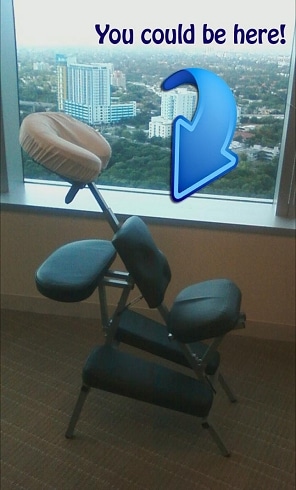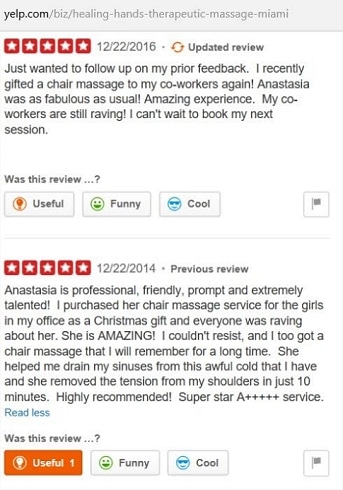 Healing Hands is pleased to offer this service at your office! 
Chair massage is a fantastic way to boost employee morale, reward outstanding workers, and promote overall health and wellness.  It is amazing what 5-10 minutes in the chair can do.
We work with offices throughout Miami-Dade and southern Broward.  Some have as little as 3 employees, some have close to 100.  No office is too large or too small.
Still have questions?
Please contact us anytime! We look forward to hearing from you. And don't forget about the other services we offer.